So far 2014 has been a very, very wet one. And it seems that it's only going to get worse. With several deaths, thousands of homes destroyed, and 65 million tonnes of water flooded over South East England, I thought I would take a look back at some of the worst storms in British history.
2010: the "Big Freeze"
Temperatures dropped as low as -18C, causing widespread disruption. Thousands of schools remained closed and thousands of homes were without power for days.
16 August 2004:
A storm in Boscastle, Cornwall, caused a devastating flash flood which saw 20 million tonnes of water flow through the village destroying homes, washing away cars and uprooting trees. About 150 people were airlifted to safety from their rooftops, but nobody died.
Late October 2000:
During the UK's wettest autumn for 200 years, the storms caused five major rivers to reach record flood levels creating an estimated £1 billion worth of damage across the country. Gusts of 93mph left about 60,000 houses in the East Midlands without power.
1989: South Wales
Wind speeds of 124mph recorded in Vale of Glamorgan.
15-16 October 1987: Great Hurricane
The "Great Storm" killed 18 people when a ferocious 115 mph wind tore across the country leaving a trail of devastation in its wake. Around 15 million trees were uprooted, cars were destroyed, roofs torn off buildings, and a pier on the Isle of Wight ripped to pieces. More than £1.5 billion worth of damage was caused across Cornwall, Devon, the Midlands, Essex and Kent.
1962/3: the harsh winter
From Boxing Day 1962 to March 1963 much of the UK was covered with snow. In January the sea froze for up to a mile out from Herne Bay and the upper Thames froze over.
31 January - 1 February 1953: North Sea flood

Hurricane-force winds combined with high spring tides to cause a disastrous storm surge along the east coast. More than 300 people died, including 133 who were forced to abandon the Princess Victoria ferry east of Belfast. Nearly 24,000 houses were damaged and 72,845 hectares (180,000 acres) flooded, while thousands of trees were blown down in Scotland.
16 August 1952
A torrential thunderstorm devastated the village of Lynmouth in north Devon, killing 34 people. Nine inches of rain fell within 24 hours on already waterlogged ground causing the river to break its banks and destroy 100 buildings, 29 bridges and 38 cars.
1891: Great Blizzard
More than 200 people died and Cornwall and Devon completely cut off from the rest of the country by a great blanket of snow that covered much of the two counties.
14 October 1881: Eyemouth Disaster
The southern coast of Berwickshire, Scotland, was struck by a severe windstorm on 14 October 1881, killing 189 fishermen (almost the entire fishing fleet).
Nearly 200 fishermen, mostly from the village of Eyemouth, were drowned in what residents still call Black Friday.
26 November 1703
- A catastrophic 80 mph hurricane ripped across East Anglia, decimating villages from Northamptonshire to Suffolk and killing between 8,000 and 15,000 people. Hundreds of vessels were sunk, homes destroyed, animals drowned in flood water
and the lead roofing was blown off Westminster Abbey
. It is th
e worst natural disaster ever to hit southern Britain. Between 8,000 and 15,000 lives were lost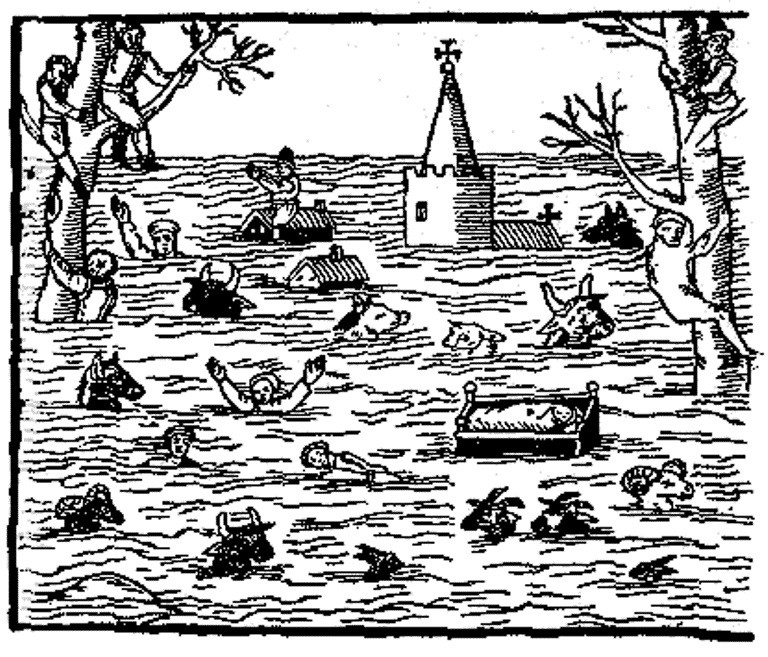 1607: Bristol floods
Some 2,000 people drowned around the Severn Estuary, with 200 square miles of farmland inundated. Long blamed on a storm surge, it is now suspected that the devastation was caused by a tsunami.
Pre-history: the ice age
Of course, we can always console ourselves that no matter how rainy and windy it is, it's unlikely to be as bad as the last ice age, which enveloped the country until around 10,000 years ago. Much of the country was buried beneath glaciers kilometres thick.